Connectivity
Our vision is to provide enhanced connectivity among a network of sidewalks, nature trails, and multi-use trails in and around Atlanta Memorial Park, both east and west of Northside Drive.
Goals:
Pathways around Memorial Park, under Northside Drive, around BJ Golf Course, BG Tennis Center and Recital Hall, all connected to the Beltline's NW Trail.
Bike paths east of Northside Drive, crossing Peachtree Creek, connecting to the Beltline, and under Northside Drive to Memorial Park and Wesley Drive.
A flood-resistant nature trail through the interior of Memorial Park.
What we are doing: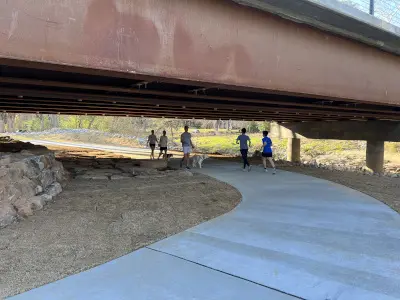 Working with GDOT, PATH, BJGCF, and COA on the Northside Drive bridge underpass.
Working with GDOT, BJGCF, and the Springlake Civic Association on the installation of a new light with crosswalks at the intersection of Northside Drive/Klump Lane/McKinley Road.
Working with GDOT and neighborhoods on new bridge sidewalk and crosswalk designs.
Hosting community meetings about pathways, roads, bridge replacement, etc.
What we have done:
Launched the Northside Drive bridge underpass proposal. Continued advocacy and numerous follow-up meetings with PATH, GDOT and BJGCF have led to a bridge design to accommodate the underpass.
Secured funding and coordinated design and permitting of the sidewalk around Memorial Park. Coordinated with Renew Atlanta, ASTRA, HGOR, and Long Engineering on the installation of the 5-foot sidewalks around Memorial Park.
Hosted meetings with PATH and neighborhoods for input regarding the design of the multi-use trail loop around the golf course.
Secured funding for the Memorial Park nature trail.
Our future plans:
Continue advocacy for the Northside Drive bridge underpass and surface walkways.
Host community meetings for Beltline updates and other connectivity issues.
Advocate for the maintenance and safety of the sidewalks, nature trails and pathways throughout Atlanta Memorial Park.